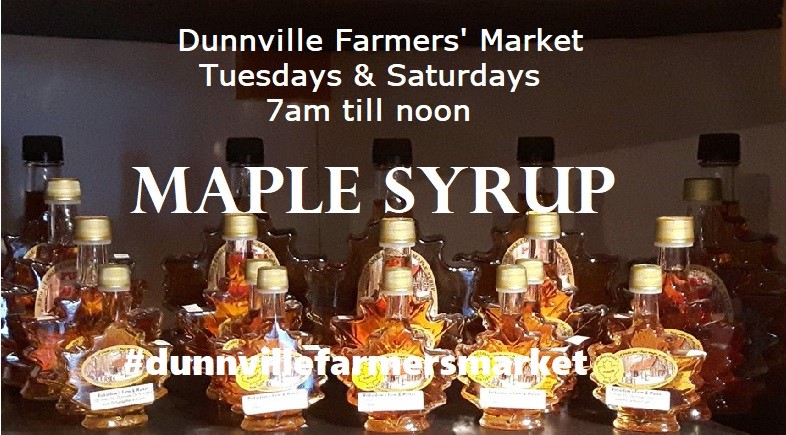 DISCOVER THE WORLD OF SWEET ONTARIO PURE MAPLE SYRUP right from our own backyard
Maple Syrup is often referred to as the first agricultural crop of the year in Ontario and these producers work hard to bring the very finest pure maple syrup to you. and we have two local produces at the Dunnville Farmers' Market.
Interesting Facts
Maple syrup is a completely natural product with no additives. It is full of minerals and plant proteins. Filled with Antioxidants
Maple syrup is a superior ingredient to white sugar to increase your antioxidant intake.
Canada produces over 70% of the worlds demand of Maple syrup
How Maple Syrup is Made
See link below for more video and information on our local Maple Syrup vendors.
Natural Energy Booster
Pure Canadian maple syrup is an all-natural energy booster and sugar alternative that can help provide nutrition before, during and after exercise. That is right regardless of whether you're an exercise enthuse, a walker, a bicyclist, or a runner or preparing for next marathon, maple syrup is a 100% natural energy source. It provides you with simple carbohydrates that are easily broken down by the body into glucose and used for fuel during exercise.
100% Maple Syrup contains beneficial vitamins and minerals, including manganese, riboflavin, zinc and potassium. These vitamins and minerals combined with simple carbohydrates of pure maple syrup will help provide added nutrition to an exercise program.
Cooking with Maple Syrup
maple syrup can be used as a healthy alternative to sugar in a variety of dishes, such as desserts and baked goods (pies and cakes, just to name a few). The natural sweetener also adds depth and complexity to a wide range of entrees, and can be used as an ingredient in glazes, rubs or barbeque sauces for poultry, meat, seafood or vegetables.
Recipes
Maple Chicken
2 lb (1 kg) chicken pieces
1/3 cup (75 ml) all-purpose flour
1/4 cup (50 ml) vegetable oil
1/2 cup (125 ml) maple syrup
2 Tbsp (30 ml) cider vinegar
2 Tbsp (30 ml) sherry
2 Tbsp (30 ml) soya sauce
2 tsp (10 ml) ground ginger
2 cloves garlic, minced
1/2 tsp (2 ml) pepper
1/4 tsp (1 ml) paprika
Directions
Coat chicken pieces well with flour. In large nonstick fry pan, add vegetable oil. Cook for 5 minutes, browning well, turn often. Arrange in 9″ x 12″ baking dish. In small bowl, mix together maple syrup, vinegar, sherry, soya sauce, ginger, garlic, pepper and paprika. Pour over chicken evenly. Bake at 350°F for 45 minutes to 1 hour, turning once during baking. Cover with foil, if browning too quickly. Garnish with freshly chopped parsley.
Recipe from http://www.ontariomaple.com/recipes-main-side-dishes
Bran & Maple Muffins
Ingredients
1 cup oat bran
1 cup fat-free plain Greek yogurt
3/4 cupbran flakes
3/4 cup all-purpose flour
1/2 cup whole wheat flour
1/3 cup chopped dates
1 teaspoon baking soda
1/2 teaspoon cinnamon
1/4 cup pure maple syrup from Canada
1/4 cup canola oil
1/4 cup water
1 egg
Directions
Preheat oven to 350 °F. Line a muffin tin with 12 paper or silicone muffin liners.
In a medium bowl, combine the oat bran with the yogurt and let sit while preparing the other ingredients. In a medium bowl, combine bran flakes, both types of flour, dates, baking soda and cinnamon. In a small bowl, whisk together the maple syrup, oil, water and egg; add to the oat bran and yogurt mixture. Stir in flour mixture just until combined. Spoon into muffin liners. Bake for 15 to 18 minutes or until a toothpick inserted into the muffin center comes out clean. Remove the muffins from the tin and cool on a wire rack.
Recipe from
Come for some Sweet Ontario Maple Syrup right hear at the Dunnville Farmers' Market Visit with our vendors to find out more about Maple Syrup.
Richardson's Farm and Market James Richardson
Houser's Home Grown Produce Chris Houser
Click on our link to learn more about our Maple Syrup Vendors
Facebook links
James Richardson's Farm & Market Videos on Maple Production
Check out their facebook page for more interesting facts and tours available on the farm
Meet the Vendor Chris Houser